Al's Stag party photos
Click here for a directory listing if you are on a low-bandwidth connection.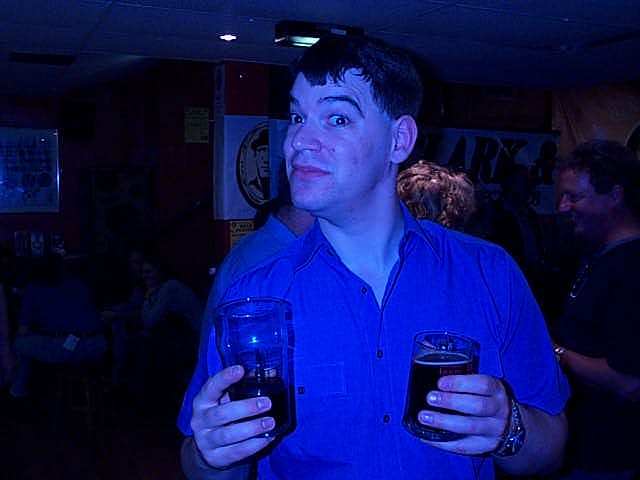 The victim. In a good light. At this point we are at the beer festival.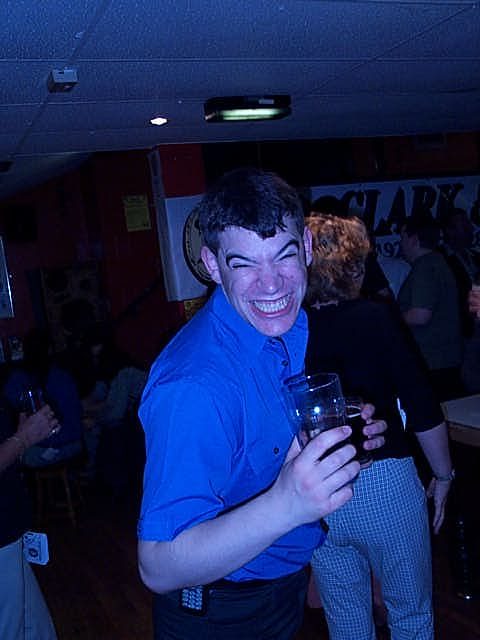 The victim again. Charitably, I'll say this is maybe a bad light.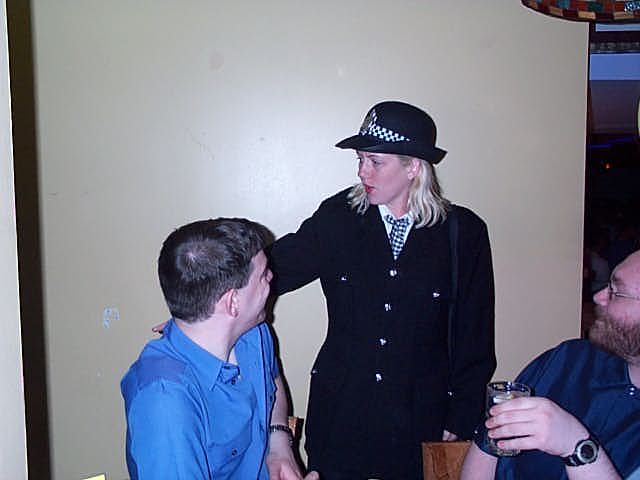 The policelady accosts her victim. You also see me drinking water - I was too tipsy to cope with anything more by this point.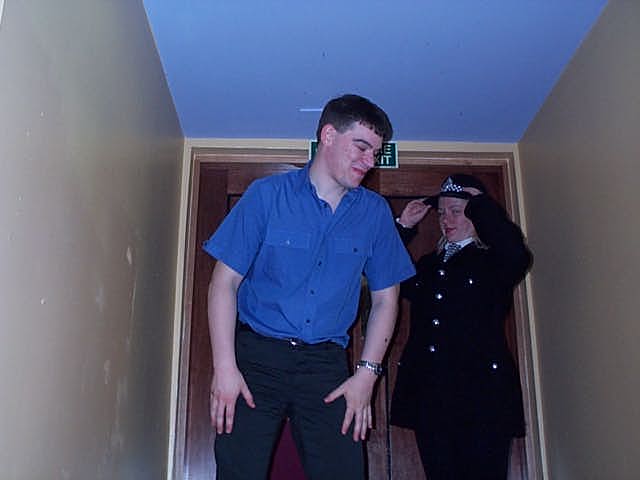 In true police style, she drags the victim off to a "quiet corner" for a chat.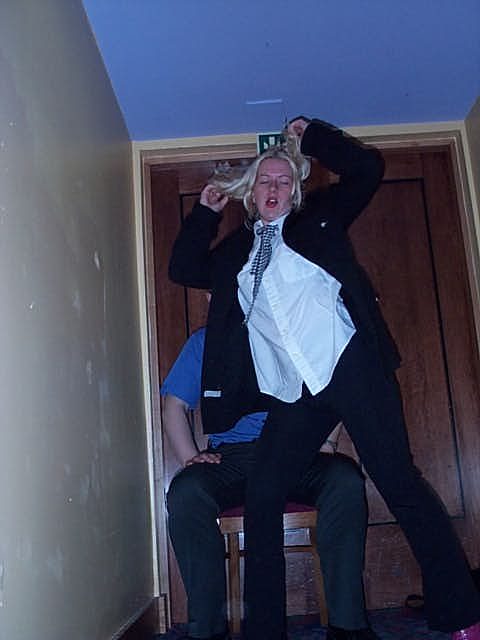 A quick shimmy...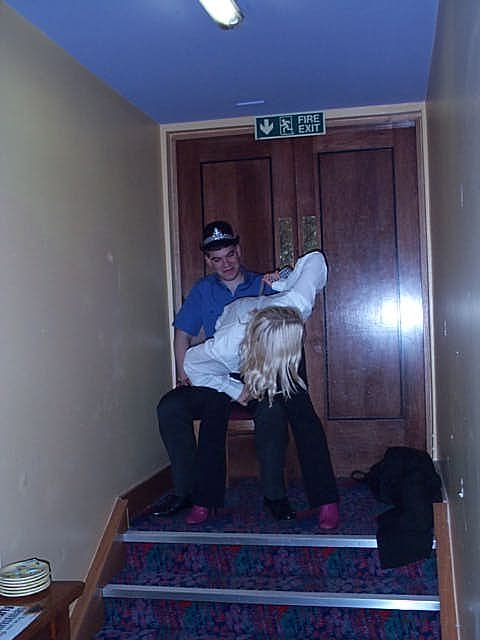 ...I'm not sure THAT can be called a shimmy...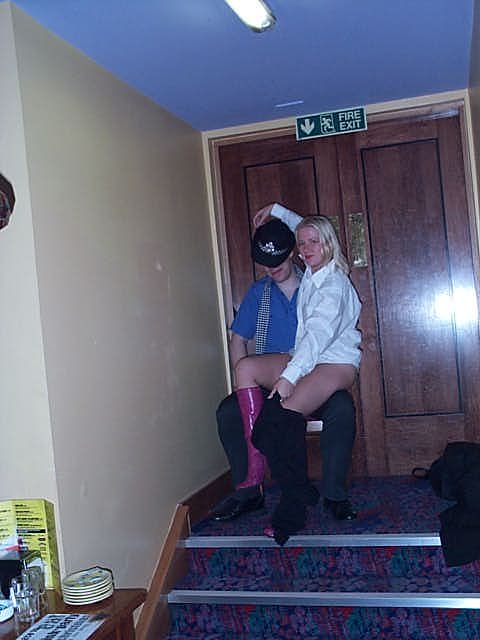 ...gracious! Her clothes are disappearing!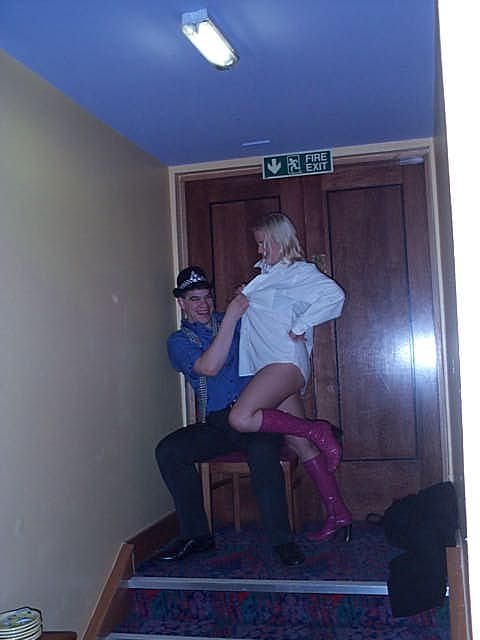 Under duress, the prisoner is forced to assist the officer with her enquiries.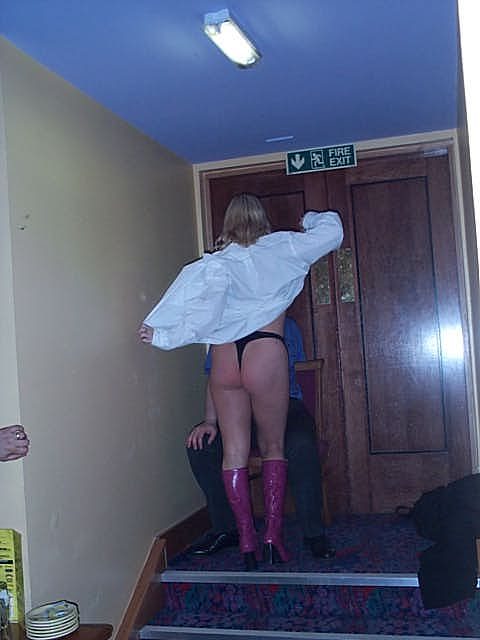 That's quite enough assisting, now, Alistair!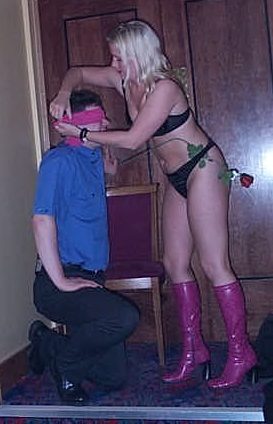 The torture begins. Blindfolded, and forced to kneel...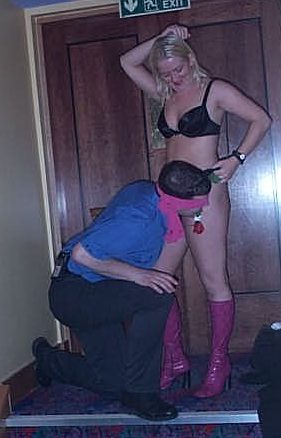 ...he is made to perform acts of herbaceous removal... with his teeth!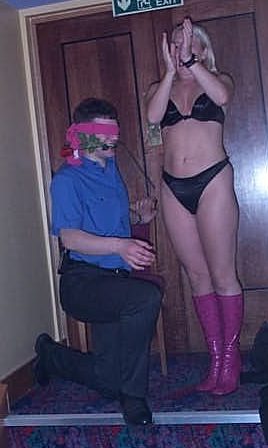 Success.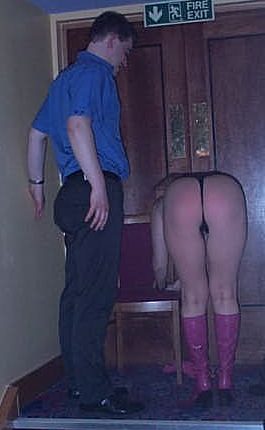 I don't have anything witty to say about this photo. But it's a lovely shot anyway.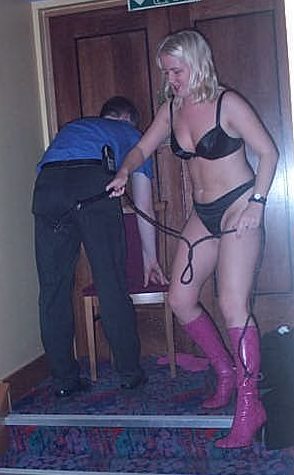 Next, she lays into him with the handle of a whip (why the handle? I don't know!).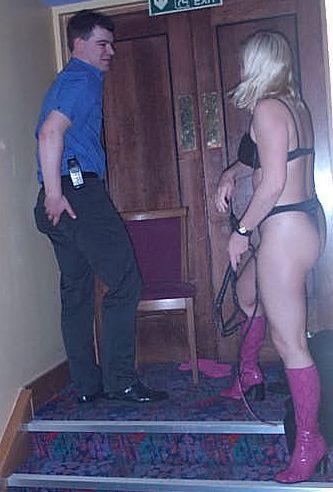 She lets him up. Hah! Looks like that smarted!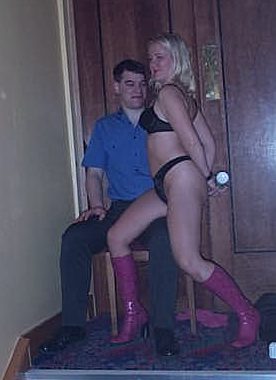 See how she thrusts her assets at him! It's to distract him - what's she hiding behind her back? A can of squirty cream!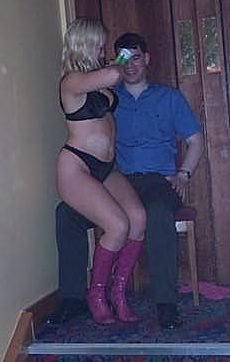 Delicately applied...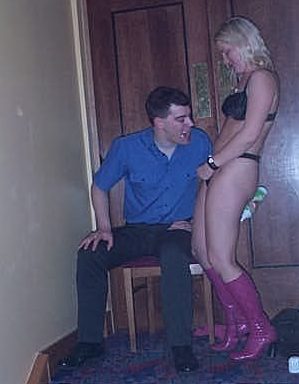 "OK, you got those bits off... try this one!"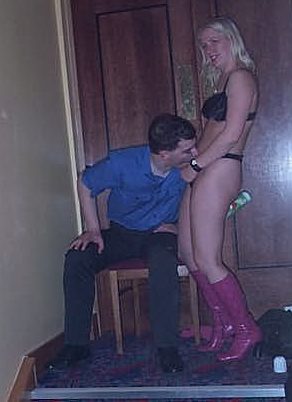 He obliges, like a gentleman.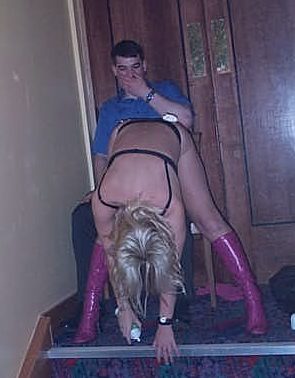 We can see he's already successfully dealt with one of the blobs involved here. Let's hope he's just trying to stifle a burp, here. This would be the wrong time to throw up.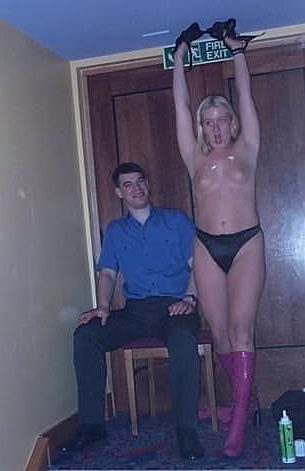 I seem to remember a round of applause at this point.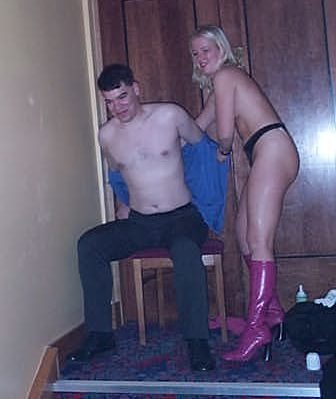 Oh dear! It's getting serious now!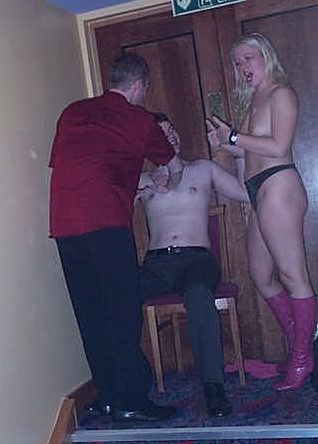 A volunteer is called for, to slather him with oil!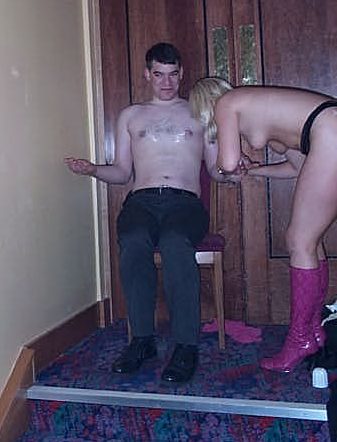 Now his palms are filled with oil...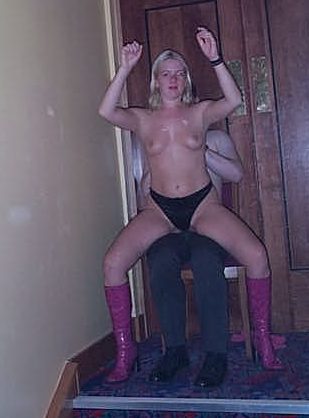 ...she sits on his lap... and he (innocent lad) oils her BACK!!! A huge roar of laughter from the audience, as she asks us "Is there something wrong with him?" See the way her face falls as she feels the oil touch the wrong side of her body :)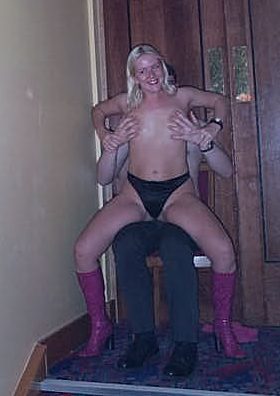 A few quiet words later, and a helping hand from her...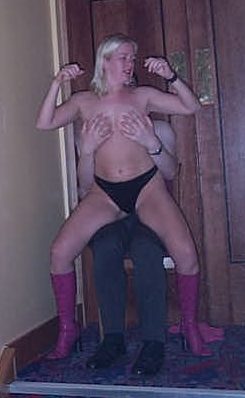 ...and the idea percolates through to his alesodden brain.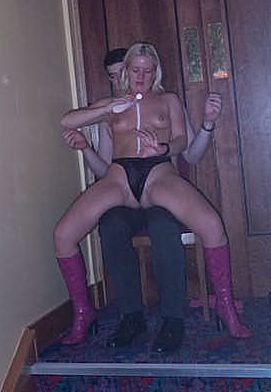 Ooh. Babyoil.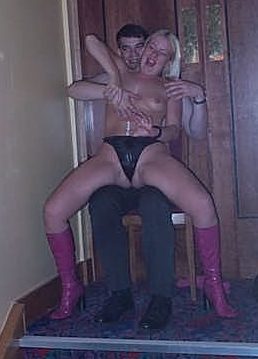 He helps to rub it in.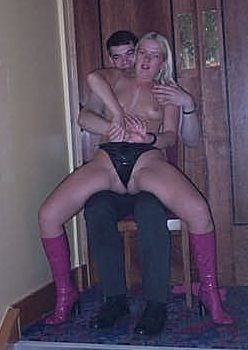 Everywhere.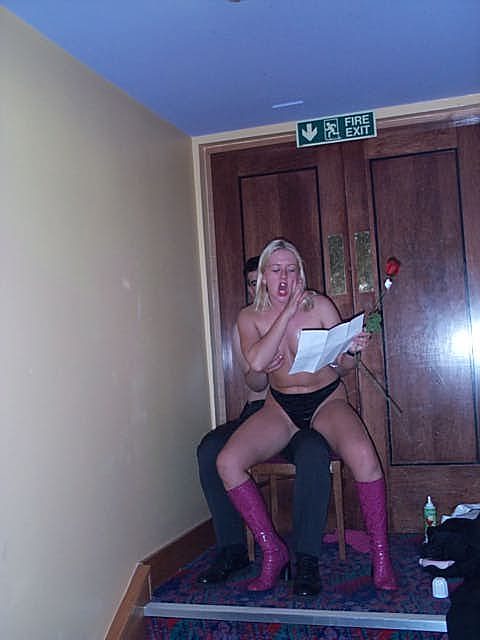 She decides to proclaim his innocence (which I think he has fully proved, with the back-oiling faux pas!). Despite what his hands are doing.
---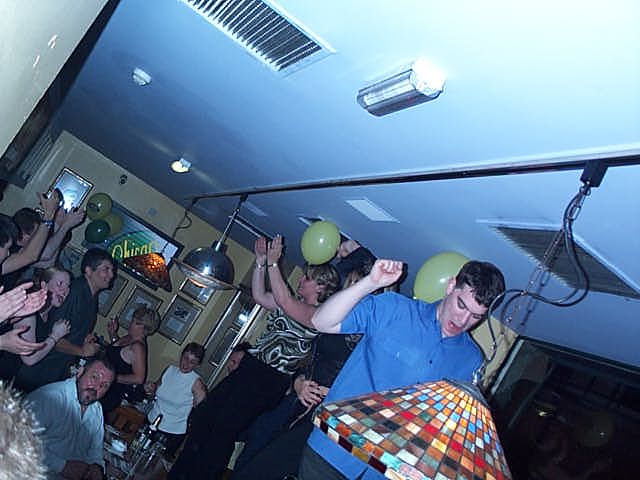 Well, the stripper has left. What can we do now? Why, dance on the tables, of course!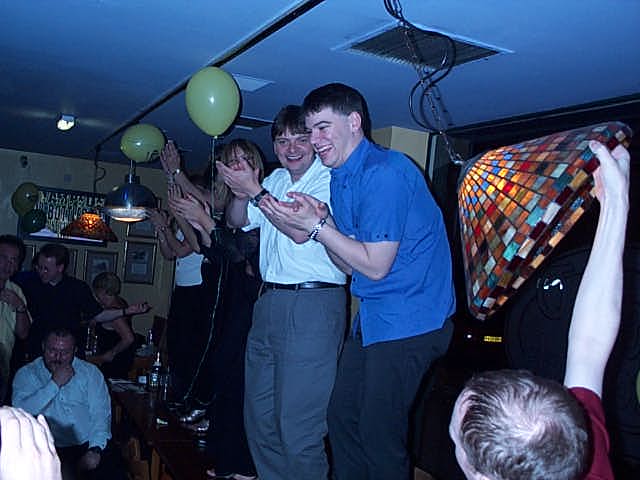 And some more. Good party :)
OK, that's it, folks!